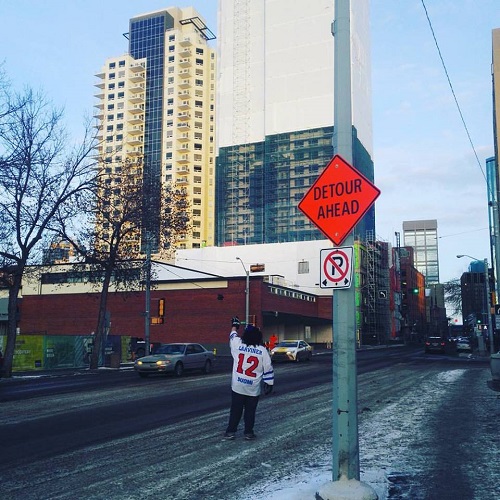 Picture: #12 Taking over the streets of Edmonton
I was lucky to get invited to Edmonton to watch my first NHL game and take a look city of Edmonton. Trip was by Icelandair, ExploreEdmonton ja Oilersnation. Plan of the trip was that scandinavian people can see how easy it is to come to Edmonton. Yes there was Sweden hockeyjournalist with us. Uffe Bodin who is running hockeysverige.se and eliteprospects.com pages. Flight to edmonton was long 19 hours, but i dident care about it because first people i met in airport was Edmonton Oilers captain Connor Mcdavid. I had picture with him and after "fist bump" airport did go crazy! to see me? NO! Everybody was "THATS CONNOR MCDAVID"  okay… McJesus you have been spotted.  Airport went so crazy and there was so many people coming towards Connor with phones in hand and wanted to have photo with him that he needed to but Hoodie on and just leave the place. Then i realize what kind of start i have get to my trip. I MET CONNOR MCDAVID!   First Morning we take tour of Edmontin with our hosts Jay and Adam. We went to have radio interview as well in TSN1260 and you can hear it HERE. Interview starts at 17min. (yes i was little bit nerves)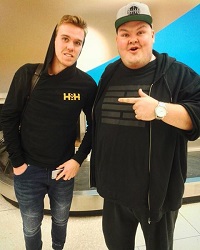 Photo: Connor McDavid and me
Day two was the "GAMEDAY" so it was time to hit Lärvinen costume on and hit the streets of Edmonton! Before that we went to do some shopping to Kingsway mall. The radio interview and handsomeness of me hade made the job in Edmonton! 😉  Everybody regonize us and when we went to Edmonton Oilers fanstore the man behind counter was "You are the guys from scandinavia" thats was funny! So it was time to but jersey on and hit the dinner with ExploreEdmonton guys near Rogers Place. They hade hit us with best tickets in arena in Sportsnets lounge and we had even the city of Edmonton BOX!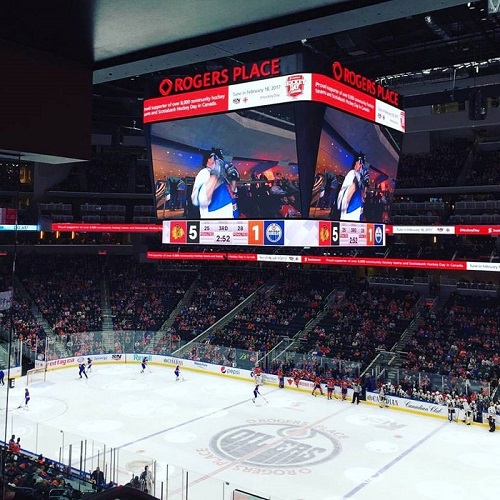 Picture: Edmonton Oilers vs Chicago Blackhawks @ Rogers Place, Edmonton and some crazy superfan in the bigscreen
Rogers Place and my first NHL game. We arrived in Rogers Place and the arena was so nice and NEW! We hade the best seats in the arena in Sportsnets lounge and even the food was good there. AND YOU CAN DRINK BEER IN YOUR SEATS! (In Finland you cant do that). The result of game was not so good but still it was NHL game! We still decided to go and look the nightlife of Edmonton and hit the best Sportsbar in town PINT!  Pint is place to go, even the Oilers players go there often i was sayed. Service was good and place was full! WE HADE A BLAST!
Thank you Icelandair, ExploreEdmonton and Oilersnation!